Radiomarconi (2016)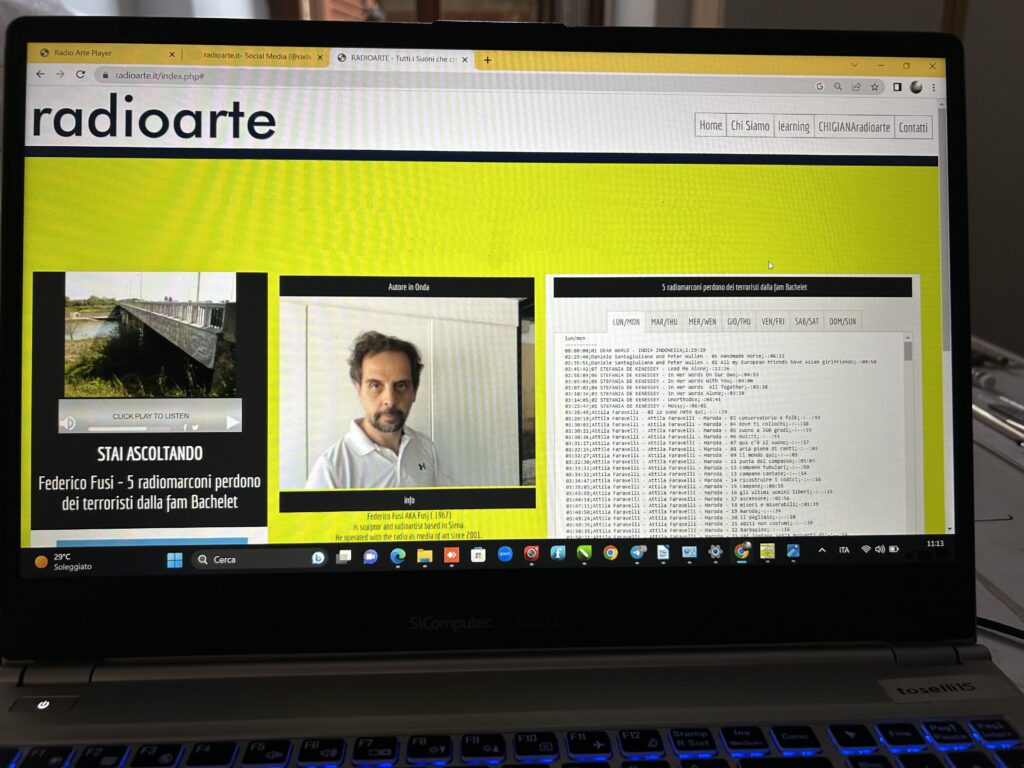 radiomarconi è un progetto radiofonico della durata di un giorno realizzato per la mostra "There is no place like home" 2016 che si è svolta fisicamente all'approdo di Lungotevere San Paolo in prossimità del Ponte Marconi a Roma ed andato in onda il 16 ed il 30 settembre 2026 sulla web radio www.radioarte.it a rotazione.
Il programma inizia con il "Va Pensiero" dall'atto terzo dell'opera Nabucco di Giuseppe Verdi sfumandosi come un acquarello sonoro alla voce originale di Marconi che apre la traccia come un appello pubblico a riannodare i fili di una memoria. Attraverso la ripetizione di una sessione sonora di scultura emerge l'ascolto di incursioni di fatti reali della recente storia d'Italia di cui la radio, invenzione di Guglielmo Marconi è stata fedele testimone. La traccia si chiude con la sessione sonora di scultura che si disperde in dissolvenza.
/
radiomarconi is a one-day radio project created for the 2016 "There is no place like home" exhibition that physically took place at the Lungotevere San Paolo landing near the Marconi Bridge in Rome and aired Sept. 16 and Sept. 30, 2026 on www.radioarte.it in rotation. The program begins with the "Va Pensiero" from the third act of Giuseppe Verdi's opera Nabucco fading like a sound watercolor to Marconi's original voice that opens the track as a public plea to reknit the threads of a memory. Through the repetition of a sculpture sound session emerges listening to incursions of real events in recent Italian history to which the radio, Guglielmo Marconi's invention was a faithful witness. The track closes with the sculpture sound session fading out.
titolo/title: Radiomarconi
anno/year: 2016
tecnica/media: radio art
luogo/site: -mostra: Approdo fluviale San Paolo, Roma / show: River landing San Paolo, Roma – opera/work: web radio www.radioarte.it
dimensioni/size: File audio/audiofile min. 00.18.21
produzione/produced by: Archivio Federico Fusj
in collaborazione con/in collaboration: inner room – radioarte
collettiva/group show: there is no place like home Lungotevere San Paolo, 48 Roma
cura/curated : Giuliana Benassi Giuseppe Pietroniro Daniele Puppi
foto/photos: Archivio Federico Fusj
rassegna stampa/press release: TINPLH-2016
sede opera / work seat: Federico Fusj archivio, www.radioarte.it archivio